Anti condensation heaters are used to protect customer enclosure, electric panel or switchgear cabinet against problems brought on by temperature variations such as condensation. Such conditions are likely to occur when ambient temperature is low and the equipment inside the enclosure is not powered or fails to dissipate enough heat to keep enclosure temperature above the dew point. Outdoor electrical cabinets, for example, are almost always in such conditions.
RDB series enclosure heaters are standard sized silicone rubber heaters factory vulcanized to the black anodized Aluminum plates in our factory. The Alu plates are light, corrosion resistant and good for radiational heat transfer. Compared to other type of anti condensation heaters, silicone heating plates have the following advantages:
Pre-drilled standard mounting holes, easy installation
Hermetically sealed heating element, avoid problem of oxidation
Low surface temperature, touch safe
Double insulation of moisture proof silicone rubber and alkali-free glass fiber, suitable for for harsh environment
Wide operating temperature range: -60°C to 200°C
Fanless radiation heating, silent operation, long lifetime
Thin profile, space saving
Optional with thermostat
Side mounting model available upon request
Specification
| | |
| --- | --- |
| Rated Voltage | 120V or 230V |
| Dielectric Strength | 2000V/min |
| Insulation Resistance | >50M |
| Working Temperature | -60°C — 250 °C |
Typical Applications
Provides freeze prevention and condensation build-up protection in enclosures where supplemental heat is needed:
Electric cabinet
Switchgear cabinet heater
ATM machine
Control panel
Anti-flocculation box
Traffic signal control box
Light box
Vending machine
Calculation of Anti Condensation Power
All electrical cabinets emit certain amount of heat to the surroundings through the surface. So the required anti condensation power is proportional to the effective surface area of the enclosure. The blue lines in the graph represent different temperature elevation. Knowing the effective surface area, you can find the corresponding anti condensation power required for the enclosure heater.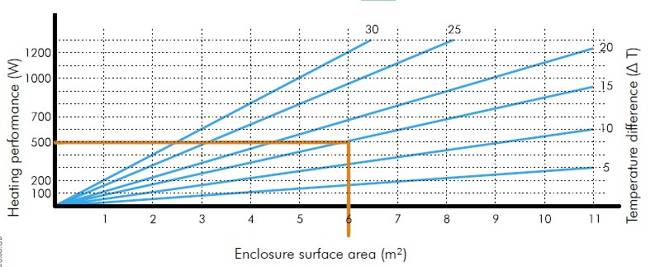 The table below shows the effective surface area calculation for control panel / electric cabinet mounted at different locations.