With potential networking capability, FabDoctor series high performance temperature controllers can be used either standalone or in large heating systems that are comprised of several heating elements. The main features are:
Model based control
UL approved (basic model), file No. E481220
Voltage rating: 90Vac – 230Vac
Current rating: ≤ 5A (≤25A for high power version)
Temperature control range: 20-200℃
Adjustable temperature control tolerance: 1-5℃
Service temperature: 0-60℃
Alarm setting for low temperature and over temperature
Overvoltage & overcurrent protection
Arc-free relay, long lifetime
Tri-color LED display for operation status
Tri-color LED display for setpoint and failure code (3 digit)
Housing material: PC (metal sheet for high power version)
Dimensions: 89*59*29mm (91*107*44mm for high power version)
Custom design possible
Circuit Topology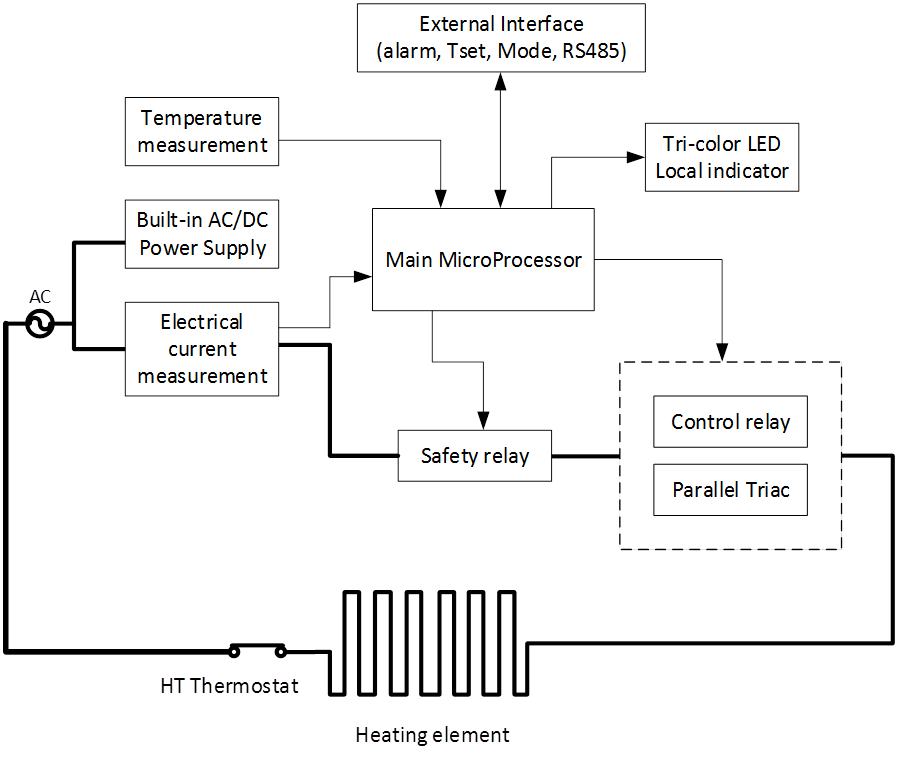 Models Available
With circuit topology in common, the versatile FabDoctor temperature controllers are available with different models depending on the feature addons.
RS485 Temperature Controller can be used to monitor and control multiple heating elements remotely over ModBus network. They are highly desired for complicated heating systems that are are comprised of many heating elements and need accurate temperature control & monitor for all the elements. Typical examples are the pipe system in the semiconductor factory and the power battery system of electric vehicles. The operation personnel can set the target temperature of each controller remotely from the central station or via a complementary handset on site.
Digital Temperature Controller has 3 digit temperature display and can be used as a general purpose temperature controller for electric heaters of any type. The temperature setpoint can be configured via a detachable button. You can see the auto-key like button in the first picture of this page.
High Power Temperature Controller can handle heating load up to 25A (6KW). The temperature setpoint can be set directly by pressing the two arrow buttons at the front of the housing (refer to the picture right below).
Custom Development
With manufacturing capability in house, the custom design possibilities are limitless. We are able to deliver complete plug and play heater assemblies including digital temperature control and display. The picture below shows a de-molding heater we developed for a customer in Europe for ice cream production line.