Polyimide (Kapton®) heaters manufactured by Sinomas are widely adopted for precision instrument heating up to 260°C. The versatile heater films have been the ultimate solution for many performance demanding applications.
Polyimide (Kapton®) film is an organic material with very high dielectric capability, flexible thin profile and low thermal mass, while providing superior resistance to most solvents, acids, and radiation. Being transparent, Polyimide (Kapton®) heater allows easy visual inspection of the internal foil circuit structure. In connection with these features, Polyimide (Kapton) heaters are very ideal for applications:
space and weight demanding instrument heating
be exposed to chemicals or oil
in vacuum environment requiring low out-gassing
fast and precise heating
low voltage low ohm value heater film, e.g. 5V, 12V, 24V
high performance heating for electronics
Foil Element
Polyimide (Kapton) heaters make use of very thin (e.g. 50μm) etched metal (usually nickel based alloy) foil as resistive element. The resistance pattern to be etched is designed in CAD and transferred to the foil, which is then processed through acid spray to produce the desired resistance pattern.
Taking advantage of the etched foil technology, complicated thermal profiles and wide range of resistance can be realized. Bifilar circuit meander arrangement is possible, which is often required to eliminate the parasitic inductance in the circuit.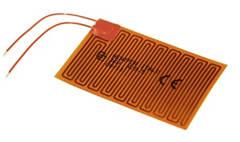 Technical Specification
| | | | | | |
| --- | --- | --- | --- | --- | --- |
| Input volatge | 12V – 400V | Max Temperature | 260°C (note 3) | Min width | 8mm (note 1) |
| Watt density | ≤ 3.0 W/cm2 | Min Temperature | -50°C | Max width | 500mm (note 2) |
| Watt tolerance | ≤ ±5% | Aluminum foil backing | optional | Thickness | ≤0.2mm |
| Insulation | > 100M | Insulation overlayer | optional | Bending radius | ≥0.8mm |
| | |
| --- | --- |
| Temperature Sensor | RTD / film pt100, thermistor / NTC, thermocouple, thermal fuse, thermal switch |
| Adhesive backing | optional with acrylic, silicone, polyimide based PSA |
| Circuit design | dual input voltage, multiple heat zone, inductance free design, etc. |
| Lead wires | Teflon, silicone rubber, PI insulated cables, different plug set / termination available |
| Dielectric | > 1000V/min |
Notes:
The minimum width of polyimide / kapton heater is 8mm for one side leads exit, 5mm for two side leads exit
The maxmimum width of polyimide / kapton heater is only limited by the incoming roll of polyimide film. Henece there is no limit on one dimension. We can make wider heaters if the volume of demand is considerable.
The maximum operation temperature depends on many factors. 260°C applies to Aluminum plated polyimide heaters without adhesive backing.
Aluminum / Copper Plated Polyimide Heater
Aluminum foil backing on polyimide heaters can improve the heat distribution and allows for higher watt density. For even high operation temperature and ems suppression, Aluminum or copper plating of the polyimide heaters are recommended. The maximum operationtemperature of the heater can be up to 260°C. The technology has been used successfully on polyimide heaters for medical CT scanners, particle accelerators, etc.
Applications
Medical diagnostic instruments: Heat sample trays, reagent bottles, CPAP ventilator humidifier, etc.
Stabilize optoelectronic components
Enable cold weather operation of outdoor electronics such as laptop, light box, ATM
Protect aircraft electronic and mechanical devices in cold weather / area
Semiconductor manufacturing process
Preheating of EV batteries